Welcome to our Summer 2022 Newsletter. This will be a relatively brief message from us, reflecting on how Competition went for us this June at Michigan International Speedway


Tuesday, June 14
On Tuesday, the day before competition, those who traveled by land recovered from their 2400 mile drive, and those who flew in each made their way to Dundee, Michigan's Country Inn throughout the morning and afternoon. An impressive thirty eight students made the journey to southeastern Michigan. For thirty seven of us, it was our first Formula SAE Competition!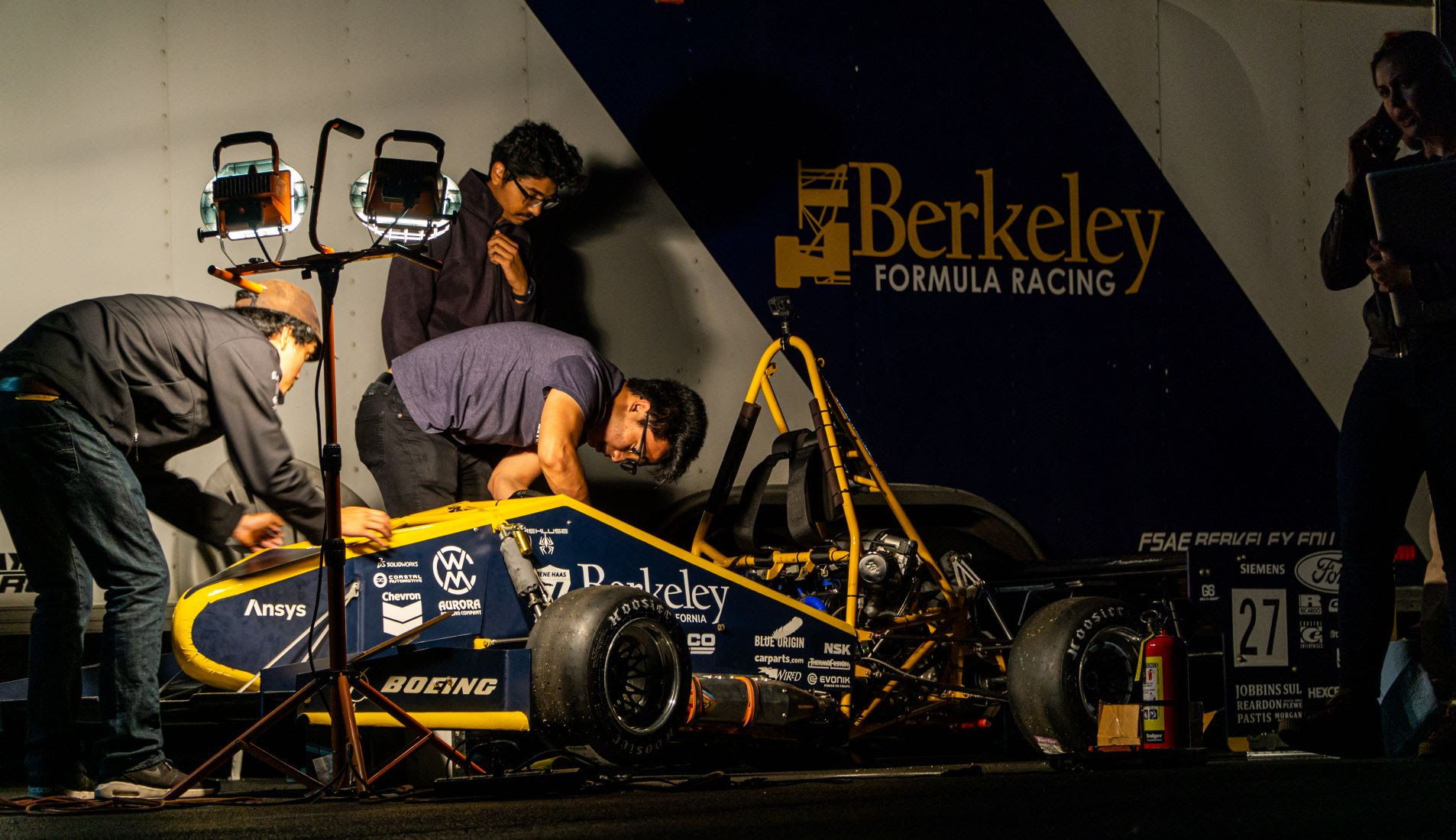 After we had a chance to relax and eat together, we went through the car in the hotel parking lot to give ourselves the best chance possible at passing technical inspection on the first try. This included making exhaust modifications in hopes of passing Noise Tech.

Wednesday, June 15




We entered the Tech tent around 10:45 AM, our car being moved from station to station for nearly four hours. A lot of work needed to be done if we wanted to pass tech on Thursday morning. Our leadership headed the creation of a 22-item list of what had to be addressed on the car if we wanted to pass tech. All hands were on deck to make it happen.


Thursday, June 16


Thursday was an critical day for us. In the morning, Julia and Jason delivered their Sales Presentation before Hugo and Sid covered Cost… more on that later. We successfully addressed all 22 items on our list and passed static tech "with flying colors" in the words of a judge. Following static tech, we faced Tilt, Noise, and Brake tests. A quick sway bar adjustment got us through Tilt on the second try, but Noise did not go as smoothly. After a couple of tries, we managed to pass at idle, but were unable to make our car quiet enough at 7,000 rpm to pass Noise by the day's end. 


Friday, June 17


Friday was yet another critical day for us as our efforts over Thursday night and Friday morning got us through Noise by the skin of our teeth. This is a challenge we are looking forward to researching over the next few months to make sure we spend less time on it at competition next year. We passed Brake Test after some quick changes made to the car following a failed first attempt. While our car successfully locked up all four tires from 30 to 0 mph, the engine stalling is what failed us initially.




From  the Brake Test, we went straight to the Acceleration Test. Short on time, we had to run Accel with our engine in its heavily restricted detuned state from Noise. While we ended up clocking a slow run, the vast majority of teams didn't finish the prerequisite portions of tech in time to make it to Accel, so we chalked up our slow run as a modest success.

With another several hours left to record Autocross and Skid Pad runs, we took the car back to the tent to prepare it the best we could. Our Skid Pad runs went incredibly well, with our first run being good enough for 2nd place, but a cone touch penalty knocking the run down to 9th. Our second run brought us back up to 4th with the fastest single circle recorded in the whole event, a.k.a. the highest lateral g-force recorded at Skid Pad.

In Autocross we scored 9th place after our first run and elected not to run again after monitoring the condition of our brittle engine mounts and an engine problem we did not have a quick fix for. We could not be more excited to design totally new, reliable, and absorptive mounts for next year!

Saturday, June 19




On Saturday all we had left to complete was our Endurance run. The car drove brilliantly and the engine issues that held us back during Autocross were remedied. However, a very simple issue led to the over-travel switch being activated for the brake pedal, electronically blocking our ignition and ending our run. Up until then, the car had been working flawlessly and we kept getting held up by the other cars on track, so we must have been on course for a good result.




Hardware! Julia and Jason's Sales Presentation was scored 1st among the IC teams, while Hugo and Sid's Cost Presentation was scored 2nd. These results, backed by 4th in Skid Pad, 9th in Autocross, and 6th in Design, make us as a team incredibly optimistic and excited for our future. The issues that brought us down the scoreboards in the other events have easily identifiable fixes. Had a couple of things gone slightly differently we could have been scored inside the top 5. Despite the ultimate result being 19th, the atmosphere within the team is very positive and forward-looking. Bring on 2023!


Thank you so much to our seniors! We will miss you all. We are also deeply thankful for all of our sponsors, friends, and family that supported us through our struggles to get us to this point.
We could not have done it without you.
Facebook
Instagram